---
About Us
Fence City specializes in the installation and material sales of Ultra aluminum fence. We install aluminum fence for swimming pools, security, protection of children and pets as well as aluminum entrance gates for your personal property and or business. Fence City of Hatfield, Pennsylvania is the largest distributor of ultra aluminum fence with thousands of sections of aluminum fence section in stock at all times. Since none of our employees are subcontractors, we can guarantee you aluminum fence installation will be installed professionally with the integrity and strength that a properly installed aluminum fence will give you for years.
Fence City Stocks Ultra Aluminum fencin all times. Whether you're looking for an aluminum, swimming, pool fence or your fencing in your yard for your pets. We have many combinations of heights and styles that are short to meet your needs. Our employees have decades of experience, selling Ultra Aluminum fence and railing. We understand the specifications of all the styles of aluminum fence that we sell and can help you choosing the best one for your project.

Since 1961, FENCE CITY, "fencecity.com" a family owned and operated organization has set the standard in residential, commercial and industrial fences. Fence City is a recognized leader in the industry. In addition to being selected by Philadelphia Magazine for their Best of Philly Issue, we are the "Swimming Pool Fence Specialist" for the Delaware Valley.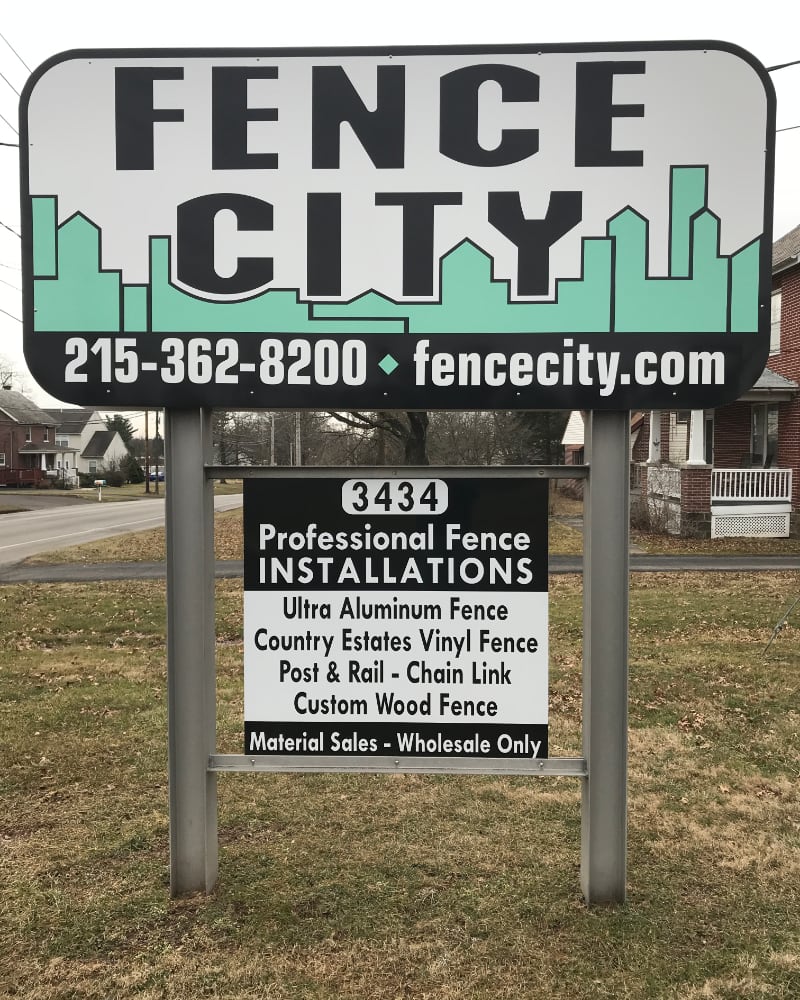 Fence City is the largest aluminum fence distributor in our area. We install aluminum fence, as well have an inventory of over 1000 sections at all times. We have an Aluminum Fence in stock for your project.
At Fence City we only sell and install Ultra Aluminum fence and railing because of its strength and warranties. We have been in business since 1961 and know the difference between an inferior product and a quality product. "Not all aluminum fence's are the same".
Ultra aluminum fence and railing are manufactured in the United States in Howell, Michigan.
Fence City is also a stocking distributor of Country Estates vinyl fencing. as with Ultra aluminum fences we only install and distribute materials for Country Estates for all the same reasons mentioned above. Strength and integrity. Also country Estates products are made in the United States in Nebraska
At Fence City we are committed to "Made in America fencing".
We also stock and manufacturer custom wood sections. We stock pressure-treated Split Rail.
Rest assured, you will find the fence that meets your individual requirements at Fence City. Because Fence City is a distributor of Ultra Aluminum Fence, Country Estate vinyl Fence. We will stand with these maintenance-free lifetime fences that are the highest quality products available in the industry.

We have a large number of happy pool fence clients. Safety is of the utmost priority when securing a swimming pool area and we are on the cutting edge with regard to building codes and safety measures recommended by both the BOCA organization and the Consumer Product Safety Commission. We strive to stay abreast of all changes and updates, as the customer's peace of mind and safety is always our biggest concern.
Our Residential Division installs fences for swimming pools, tennis courts, farms, children, and dogs. To keep your fence looking straight and strong every fence post on every one of our installed fences is in concrete.

To maintain our high standard of quality, our own employee-experts in installation perform all of the labor for the installation of our fences. If you prefer to Do-It-Yourself, we have a service center staffed by fence professionals to help you out and answer all those tough installation questions and guide you through the most technically challenging Do-It-Yourself Fence Project. Delivery is available for all of our fences in most areas.
To assist you in deciding which fence style best meets your needs; visit Fence City's retail sales center and display area, located in Hatfield, Pennsylvania. With over 50 employees, Fence City has the capability to help you with your project at your home, at our showroom, or over the telephone.
If you plan to install the fence yourself or you have a contractor that installs fence. FENCE CITY, "fencecity.com" will supply and deliver the materials for you at distributor prices.